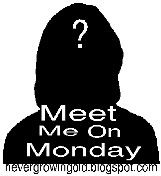 1. How many TV's do you have in your home?
Two. We have on in the living room and one in our guest room that never gets watched. We have a cable box for it and everything but we don't watch it.
2. What is on your bedside table (nightstand)?
A lamp, a candle, and some dust. I did have paper towels since we just got a new puppy, but took those downstairs to clean up another mess.
3. How many pair of shoes do you own?
Wow. Probably 30 including some of my flip flops. I live in my Rainbows though and only wear the others when it gets cold or I'm going out somewhere that flip flops aren't good for.
4. Can you change a flat tire?
I understand the concept of it and the general idea of what you're supposed to do. But I don't think I could actually change it by myself. My car actually didn't come with a spare tire so I'd be stuck calling roadside assistance or someone that could help.
5. Do you prefer sweet treats or salty treats?
It really depends on what kind of mood I'm in. Most of the time if I'm craving a "treat" it's sweet though. Most of the time I only eat a little bit though - like the strawberry cake with strawberry icing I made the other day. I eat a small piece and am done. :)