Today's theme is favorite songs.
I Run to You by Lady Antebellum. I was on my way to work one morning when this song came on. It was before mine and Goob's 1 year anniversary/formal wedding and a time when I was under a lot of drama/stress from friends. I didn't think much of it when I first heard it, but I heard it AGAIN on my way home from work that day. Hearing it twice made me realize that I will always run to him and I will always be able to count on him. So I love it!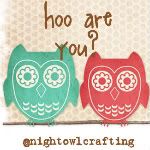 Here are this week's questions?
1. List 3 words that remind you of fall.
2. Do you wear jewelry often?
Ehh, not really. I wear my wedding ring, two pairs of stud earrings, and one other ring all the time. Other than that, maybe my watch but that's it.
3. Do you like your toe nails painted or natural?
I like them painted but if I can't afford to have them done, most of the time they just go natural
4. Do you ever wear a hat?
Ugh! No! My dad wants me to keep a guy's baseball hat in my car so when I'm driving at night I don't look like a girl to people passing by - good idea, I just don't have any hats! Beanies for the winter are about as close to a hat as I'll get.
5.
Do you have someone that you talk to everyday on the p
hone?
I text my sister-in-law every day. And I try to email my mom everyday or call her every weekend. For the most part though, actually talking, no.